...The best way to understand energy,
is to experience energy...
The Spiritual Spa is a space where several individual holistic and spiritual practitioners come together to offer you their help and insight. We offer Energy Healing Modalities (including intuitive energy healing, Reiki, crystals, and vibroacoustics), Psychic Mediumship Readings, Reflexology, Massage Therapy, and Yoga. We offer classes, workshops, and seminars on topics such as, Yoga, crystal healing, mediumship, developing psychic abilities and more, in addition to Usui Reiki Certification Classes.
The Spiritual Spa uses a Holistic framework for healing, which means the whole person is cared for. Western medicine typically treats an existing physical ailment, and often with medication or surgery. An Holistic theory of medicine and healing considers the big picture of illness, health and healing by incorporating physical, mental, emotional, spiritual, and environmental factors that can affect your health.
WHAT'S NEW?!
It is our fourth anniversary on Queen Street in Niagara Falls! Where does the time go? As always, there are a lot of exciting things going on for us! We are excited to share this with you.
As of Sept 1st, 2018, The Spiritual Spa will no longer offer the regular retail hours we have offered for the last four years on Queen Street. At your requests, we are very happy to be able to: offer our clientele more time and flexibility for the services they are asking for, customize your Spiritual shopping needs, and accommodate travel requests from Canada and the USA.
Our selection won't be decreasing, don't worry – but our Retail items will only be available to our clientele before or after any service appointment, workshop, class, event, or Yoga practice. Personal shopping appointments can be made via email, text, or phone, and special orders are also available for numerous Spiritual and Holistic items.
Retail items will also be available at the shows and events we participate in throughout the Niagara Region. And, stay tuned for our special "Spiritual Market" days, where The Spiritual Spa will be open to the public to offer its retail items, in addition to hosting talented guest vendors and their holistic fares and wares.
We've been blessed to Serve the Niagara community for over five years. As always, thank you for your support!
Tracy Kennedy, The Spiritual Spa
New Yoga Studio with new weekly practices & special events from Shiva Gian Yoga.
Check our calendar for events and promotions...
...how to find us...
The Spiritual Spa is a calming yet refreshing space located in beautiful downtown Niagara Falls - on the corner of Queen St & Ontario St. We offer several treatment rooms where you can take a few minutes, slow down, and check-in with yourself. Our focus is on alternative healing modalities, and we offer services and tools to get you on track and feeling better - inside & out.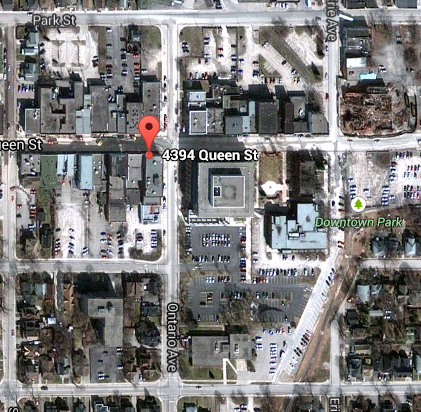 Free 90 minute Parking is available on Queen Street.