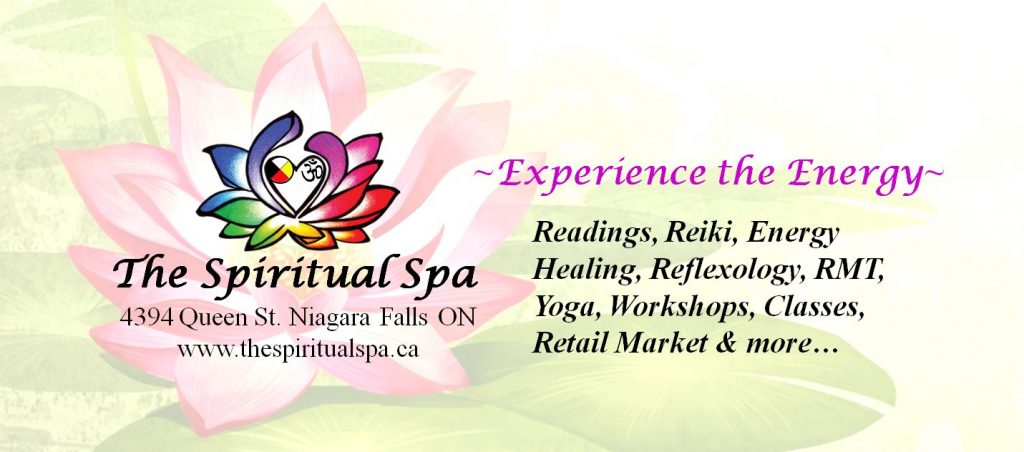 Welcome to The Spiritual Spa
Located at 4394 Queen Street, Niagara Falls Ontario.
The Spiritual Spa is a calming yet refreshing space located in beautiful downtown Niagara Falls – on the corner of Queen St & Ontario St. We host small businesses who provide Health & Wellness services, and Holistic Healing Practitioners in the Niagara Community, so that they can continue to offer their healing services to you.
We currently offer Energy Healing Modalities (including intuitive energy healing, Reiki, crystals, and vibroacoustics), Psychic Mediumship Readings, Reflexology, and Yoga Classes. We offer classes, workshops, and seminars on topics such as, crystal healing, developing psychic mediumship abilities and more, in addition to Usui Reiki Certification Classes. See a list of who we are hosting below.
~Currently Hosting~
Tracy Kennedy, PhD
Owner of The Spiritual Spa & Shiva Gian Yoga

Tracy earned her doctorate in Sociology from the University of Toronto. She is an Empath, Psychic Medium, Reiki Master, Registered Yoga Teacher, Published Author, Public Speaker, and Spiritual Educator.
Tracy offers Intuitive Energy Healing, Psychic Mediumship Readings, Spiritual Consultations &  Mentorship, Empath Tutoring, House & Land Clearings, Private Workshops & In-home Group Readings, Usui Reiki Certification Courses, Crystal Healing Certification Courses, Yoga Classes,Paranormal Investigations, and Missing Persons and Cold Case investigations(confidential and anonymous – no fees for these community services). To book an appointment with Tracy: please use email at this time tracy@thespiritualspa.ca

Laura Canal
Miles of Smiles Alternative Solutions
Laura is a Certified Reflexologist and Reiki Master offering Intuitive Hand and Foot Reflexology (with Hot Stones of Tuning Forks), Crystal Energy & Reiki Healing, Paraffin Wax Treatments, and Astro-Numerology Readings.
"The philosophy that I live by: Authenticity!! Living in my own Truth! My feet planted firmly on the ground, centered in my heart and emanating *Love* to All. Unconditional love is the one thing that will heal the collective consciousness. I am here to communicate that, as each and every person deserves to feel loved and belong on earth. My mission is to honor and respect everyone, and assist individuals to the realization that self love is an important part of their individual journey."
To book an appointment with Laura: Email laura@milesofsmiles.ca or call/text 905-321-8770. Appointments with Laura are available 10:00am – 7:00pm Tuesdays through Fridays.

Retail
The Spiritual Spa has a modest selection of retail items available to clients, workshop attendees, and Yogis. Our Spiritual items are priced at less than retail and we often have special sales for our community.

Check our calendar for events and promotions…
How to find us…