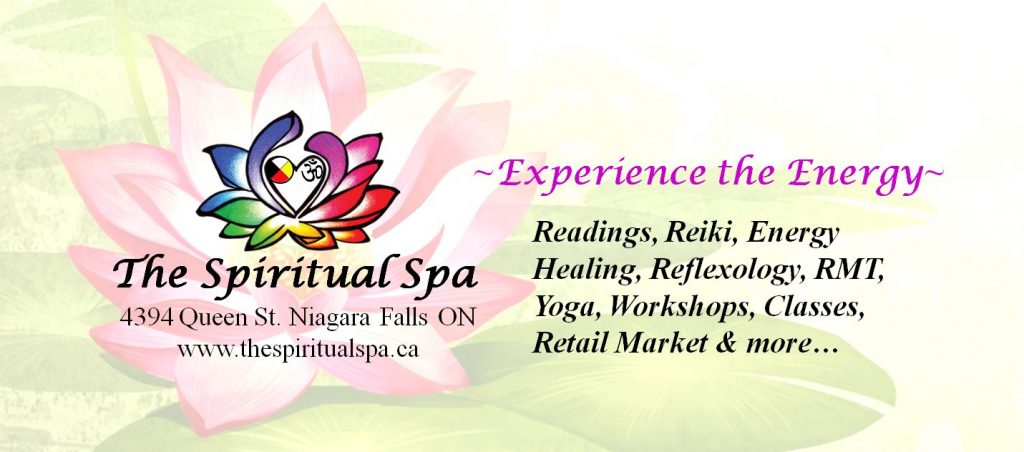 Welcome to The Spiritual Spa
Located at 4394 Queen Street, Niagara Falls Ontario.
The Spiritual Spa is a calming yet refreshing space located in beautiful downtown Niagara Falls – on the corner of Queen St & Ontario St. We host small businesses who provide Health & Wellness services, and Holistic Healing Practitioners in the Niagara Community, so that they can continue to offer their healing services to you.
The Spiritual Spa – Statement Regarding COVID-19
Hello Everyone,
At this time, The Spiritual Spa and the small businesses we host would like to update you about the health measures and precautions we are all taking at this time due to CODVID-19 concerns.
We are focused on maintaining a clean space with rigid hygiene habits to help prevent infiltration of the virus in Niagara. We have updated our cleaning procedures (and reviewed our products), and have increased the cleaning of railings, door handles, and other high-traffic contact points at The Spiritual Spa.
We ask that if you have been traveling or are not feeling well to self-isolate and stay home and/or reschedule any appointments.
Yoga Classes:
"In a world where real issues create worry and fear we must remember to: "take it moment by moment" (thanks to my teacher for those words @shineonyoganiagara)…Even though sharing is caring, it is at this time that we will practice safety first…" Ashley Michelle
Please note that we are requiring all Yoga class attendees to bring their own: Yoga mat, blocks/prop, blanket, and pillow.
We will not be supplying these for our students over the next several weeks.
Thank you for understanding and your cooperation.
-Yoga by Ashley Michelle classes are running as per usual (check out her schedule! Mon, Fri, Sun)
-Shiva Gian Yoga for Empaths 2pm-330pm is running Wed, March 18th & 25th, and starting again Wed, April 8th (tentative).
Tracy Kennedy's Services & Classes
Tracy is booked for March, and is not scheduling any further sessions at The Spiritual Spa until the week of April 6th. Online Readings (phone or video) or distance healing are available, flexible, and are encouraged. Please contact Tracy for more details or to schedule. tracy@thespiritualspa.ca
At this time, #bythefeelz The Empath Psychic Medium is still running next week on Saturday, March 21st.
Note: This class has been capped to a smaller size.
Laura Canal Services & Classes
"The health and wellness of all Miles of Smiles Alternative Solutions clients is always first and foremost important. All clients can be reassured that precautions are always in place for their safety and well-being." Laura Canal
Laura is continuing her service appointments and regular schedule and will provide updates about her upcoming workshops. laura@milesofsmiles.ca
We will keep you updated on any further developments.
As a 'hugger', please don't be offended if I (Tracy) am not hugging you for a little while (this is a hard habit to break! Hugs are awesome!). You can expect the Anjali Mudra 🙏 and a heartfelt Namaste – or the Vulcan Greeting; Live long and prosper 🖖 – or the Metal-head Salute 🤘
With love, ♥️
Your faithful service workers and Yoginis at The Spiritual Spa.
Tracy Kennedy – The Empath Guide; The Spiritual Spa; Shiva Gian Yoga
Laura Canal – Miles of Smiles
Ashley Michelle – Yoga by Ashley Michelle

Check our calendar for events and promotions…
How to find us…